If Oprah can do it so can I! Here are some of my favorite things to give and to receive.
A Christmas Centerpiece!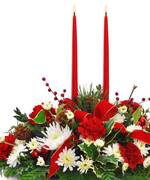 Like this one from Wascana Flower Shoppe. It's a great present for the couple on your list who has everything but you still want to show how much you appreciate and care about them. If you're crafty and creative you can even put one together yourself. Now they'll have a beautiful arrangement for their table. It also had the added bonus of being disposable. All they have to do is toss it when it's done!
Kiehl's Supremely Gentle Eye Makeup Remover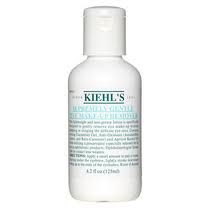 This is an extravagance at $24 a bottle but I makes my list every year. I love it and I have to thank my sister because it was her gift to me one Christmas. I've used it ever since. If you have anyone on your list who wears eye make this is the gift for them. And something they might not buy for themselves because of the price. You don't need to use a lot to get the job done. It lasts for a decent amount of time, especially if you don't use eye makeup everyday like me.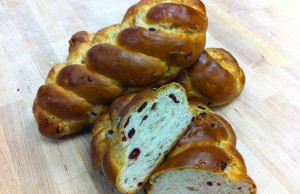 A basket of breads from our local bakery, The Orange Boot. Again, has the added bonus of being useful and disposable. And SO yummy and delicious! And, of course, you could make the bread yourself and gift it. If, you know, you have a talent for that kind of thing, which I don't. These Cranberry Walnut Braids are absolutely the best.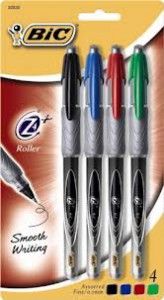 BIC Z4+ Rollerball Pens. You might be a Nerd Girl if you love these pens. These are my favorite pens of all time. Whether it's writing lists or scenes for a novel, these pens make writing fun. I kid you not. It's true. And they make a great stocking stuffer!
And of course, books. But I figure that does without saying. We have a traditional in our house of giving everyone pajamas and a book (or magazine) on Christmas Eve night. We started this when our kids were little to help them get to sleep after too much food and treats and to combat the impending excitement of Christmas morning. Picking those books out is still one of my favorite things!
Although I did have a request today. From my university aged son. Who said, and I quote, "Mom, all I need is cash for Christmas."
Easy enough.
What are some of your favorite things to give and receive?