Setting transports readers to a different time and place. I recently saw an article on what reading does for anxious people. That's me. I'm a worrier. Reading transports me to another place in the blink of an eye. The setting can be familiar or exotic. But it always has to be meaningul to the characters, which in turn makes it meaningful to me, the reader.
As a writer setting is a tool used to enhance characters and their actions and reactions. It drives suspense. It supports the political and social environment of the story. Setting creates a mood or a feeling in the reader. Or I should say this is a continuing work-in-progress.
My fictional setting of Aspen Lake is that of a small resort town on the prairies. It is modeled after a real-life resort town. A place that is near and dear to my heart. I spent many sunny beach days there as child. I worked in the park for a couple of summers as a teenager. I met my husband there. Have camped their with my own family. It is important to me.
But in BACKLASH, Book 1 of my Aspen Lake series, that isn't the case for my hero, Constable Chase Porter, who grew up with an abusive father and couldn't wait to leave. Now he's back and picking up the trail of wanted gang leader and living next door to the girl he left behind.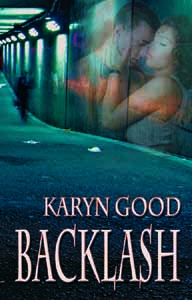 And damn his scheming excuse of a realtor to hell. A quaint, post-Victorian home, his ass. Unless crumbling and broken-down constituted quaint. In that case, he'd nailed the description. Fine by him, he didn't have forever in mind. A couple years tops, unless he hit the transfer to anywhere else lottery. He hated tranquil and quiet. He preferred noise and movement. Life after nine in the evening. Anonymity.
EXPOSED is Book 2 in the Aspen Lake series and will be released sometime this autumn. Seth Stone is the new guy in town. He's downing a good job of keeping his head down until Kate Logan, boutique owner and head of Aspen Lake's annual Gothic Revival Fair (which includes the Mad Man's Ball), becomes the target of a fanatic.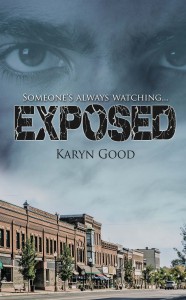 More lights, more candles, more pumpkins decorated the impromptu ballroom. Tables covered in white linen with bronze runners held vases bursting with fall flowers. Swags of purple hung down from the roof. It should have looked cheesy, but somehow it all came together with enough shadow to be mysterious and enough light to cast a spell. Seth focused on the nooks and crannies and the plenty of places to hide and countless ways to make trouble.
MIKE and GRACE'S story is the third book in the Aspen Lake story and a work-in-progress. Their pattern of avoiding each other is broken when a cold case pushes local Grace Bighill and Constable Michael Davenport together. Rumors threaten secrets which in turn tests the loyalty of all involved.
Her head swivelled owl-like. The rest of her was scared to move in case any dust escaped her person and landed on any one of numerous pristine surfaces. He seemed to have a thing for beige. Beige furniture. Beige lamps. Beige carpet. Okay the carpet probably came with the place so technically not his fault. But still…Grace made a mental note to clean her whole house which at the moment looked like a yarn factory and pastry shoppe had a war to which there was no clear winner.
I had a hard time narrowing my favourite fictional settings down to three. But this post is long already. If you've made it this far – thank you for sticking with it. I decided to pick a book from my childhood, one book pre-kids, and one I read with my book club and is also one of my all-time favourite books.
I can't think of a book in which the fictional setting impacted me more than Room by Emma Donoghue. Told from the point of view of five-year-old Jack. I was captivated from page one.
I flat the chairs and put them beside Door against Clothes Horse. He grumbles and says there's no room but there's plenty if he stands up really straight.
We've all met at least one five-year-old along the way. They're not the most reliable of narrators. But seeing things through Jack's viewpoint, his thought process, his dialogue, is what makes this novel the incredibly moving and dramatic work of fiction.
In The Mists of Avalon Marion Zimmer Bradley takes us back to Camelot and the Knights of the Round Table. The Arthur legend is a favourite of mine and has been since forever.  But Bradley's version is very different and told from the perspective of the women of Avalon. it is a powerful look at double standards, male dominance, and the idea of predicting the future.
And then, in one great act of Druid magic, to protect the last precious refuge of their school, they had made the last great change in the world; that change which removed the Island of Avalon from the world of mankind. Now it lay hidden in the mist which concealed it, except from those initiates who had been schooled there or those who were shown the secret ways through the Lake.
It's tempting to think of adjectives holding the power when describing setting, but in the above it's the verbs that grab your attention and hold it.
It was Canada Day yesterday and I can't think of a more Canadian setting than Green Gables as found in Lucy Maud Montgomery's Anne of Green Gables. One of my most beloved stories.
To the west a dark church spire rose up against a marigold sky. Below was a little valley and beyond a long, gently-rising slope with snug farmsteads scattered along it. From one to another the child's eyes darted, eager and wistful. At last they lingered on one away to the left, far back from the road, dimly white with blossoming trees in the twilight of the surrounding woods. Over it, in the stainless southwest sky, a great crystal-white star was shining like a lamp of guidance and promise.
It's a panoramic look at what Anne, an orphan, thinks is going to be her new home given to us through Matthew's eyes. The beauty is in the details.
What are some of your favourite fictional settings?