So long, September! It's been an absolute pleasure. I baked, like a lot, which is strange for me. But I really enjoyed it. From biscotti to a plum almond cake to peach streusel muffins. Everything turned out as it should and was delicious. This is not always the case when I bake so maybe it's a sign I should continue. Maybe it's all those episodes of The Great British Baking Show that I watched.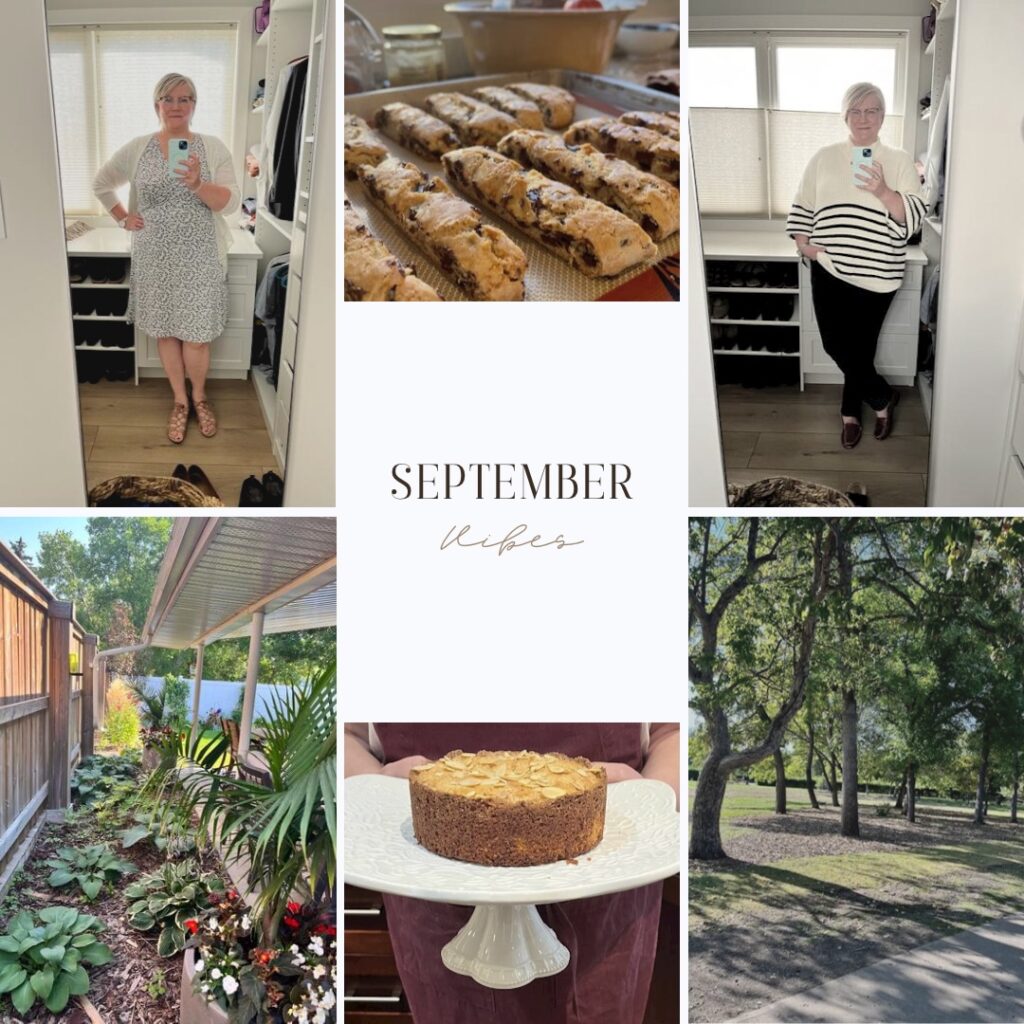 One of the things I don't talk a lot about is fashion. Not because I'm not interested in clothes. I've spent the last years creating a sustainable, ethical wardrobe that meets my budget and is functional. It's still a work in progress, but it's come a long way from the days I had a closet full of clothes and nothing to wear. These days I love the things in my closet. Some of them are new, some of them are old (and mended), and some of them are thrifted.
A lot of it comes from Canadian, female owned, small businesses. The dress in the upper lefthand corner is from Buttercream, one of my favourites. Buttercream fits my need for casual apparel and is budget friendly. I wore this dress to a baby shower for my son and daughter-in-law. That's right, I'm going to be a grandmother for the second time. Very excited!
However, once in a while I splurge. Because sustainable and ethical fashion usually means expensive. The sweater in the upper righthand corner is new and from an American company called Able. I don't usually order clothes from the US, because of the exchange rates, the shipping costs and the duty and taxes. But this sweater filled a hole in my closet and I couldn't resist. Hello sweatha weatha!
Meanwhile, it still looks like summer in my yard and in our favourite park. There are rumours going around that this winer is going to be harsh. As in COLD. Like colder than our regular cold, which is plenty cold enough. Looking forward to enjoying the short fall prairie season with it's crisp mornings, cozy evenings and pretty leaves.
Until next time…
What does fall look like in your neck of the woods?