Tropes are popular. Movies have them, television shows have them. Books have them. Look no further than the romance genre that's never met a trope it didn't like. Some of which we love and some we love to hate. That's what makes taglines and covers so important. It's the first indication of what you can expect to find inside the pages of a book.
My Top Five Favourite Romance Tropes:
Reunion/Second Chance Stories (Hands down my go to favourite trope! Bonus points if they take place in a small town! Sigh…)
Badass Bookworm (Intelligence is a major turn-on for me.)
Fish Out Of Water (Nothing makes me happier than a heroine or hero who finds themselves in a situation they never imagined without the appropriate skills to navigate it.)
Nerd Hero (Heroes with brains? Glasses? A aptitude for math? Don't talk to me until I'm done the book.)
Beauty and the Beast (Always.)
My Top Least Favourite Romance Tropes:
Enemies to Lovers (This scenario does not work for me! Not sure why!)
Marriage of Convenience (I always think I'll these ones and then I never, ever do. I think because they often have an unequal power dynamic.)
Famous Hero/Normal Heroine (These leave me cold, for lack of a better term. That includes billionaire heroes, rock star heroes, sports heroes. I know, I'm weird.)
Little Sister/Older Brother's Best Friend. (The conflict often results from breaking a dated bro code and that doesn't work for me.)
Boss/Secretary (Just..yuck! Again, I never enjoy the power dynamic of these type of workplace romances.)
I guess you could say I definitely have preferences. I LOVE to root for the underdog. Intelligent characters are a must for most readers, but high IQs, geniuses, characters who are passionate or experts in their fields draw me right in. On the other hand, hardworking, salt of the earth, self-sacrificing characters who are just looking to keep their heads down and get the job done are also a favourite of mine.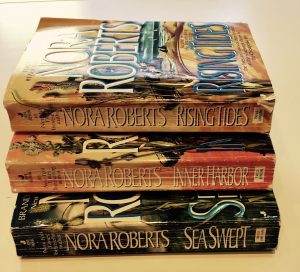 But any book with the word 'bastard' in the title – no, thanks. That goes for books with the word 'submissive' anywhere on the cover too. As you might have guessed from my least favourite list, any book where the representation of power is immediately perceived to be unequal is of little interest to me.
As for my own writing, BACKLASH definitely has a second chance at love feel to it. EXPOSED has a smidgen of a May/December trope. OFF THE GRID has both a badass bookworm (or smart, passionate doctor) and nerd hero vibe. And if you enjoy the family dysfunction trope, you'll love the book I'm working on right now.
However, despite my lists, I'm always open to great writing and well-developed characters. And if a favoured author pens a book that looks like it might fall into the 'nope' category, I'll definitely check it out. After all, we learn as much from books we don't like as from the ones we do.
How about you? What are your favourite types of stories? Least favourite?