Sundays seem like a good time to talk about the books I've read! And so begins Book Talk Sunday. I'm not going to give ratings, or stars, or gold crowns. I'm just going to offer a few of my thoughts.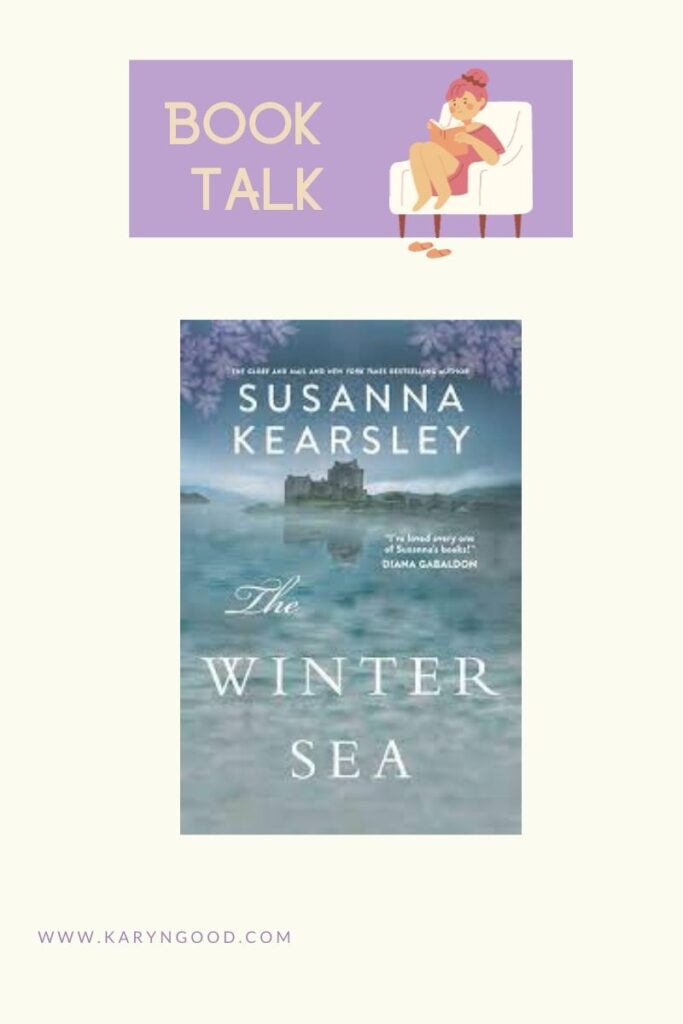 The Winter Sea by Susanna Kearsley
Published: 2021 by Simon & Schuster (Originally Published in 2008)
Length: 528 pages
Series: Slains, Book 1
Categories: Fiction / Historical / Romance
Tags: Scottish / Jacobite / Time Slip / Genetic Memory / Time Travel
The Blurb:
1707. The walls of Slains castle shelter Jacobite rebels, who are conspiring to sail the young, exiled James Stewart from France into Scotland to reclaim his crown—and a young woman caught up in their plot.

Present day. Writer Carrie McClelland is enchanted by an impromptu trip to Cruden Bay, Scotland, and decides to settle in the tiny village, hoping to find inspiration for her novel about the Jacobite uprising in the area's evocative past—and in the haunting ruins of the castle.

She creates a heroine named after one of her own ancestors, Sophia Paterson, and quickly finds the words flowing, almost faster than she can write them down. But, discovering that her novel inexplicably contains more fact than she can remember researching, Carrie wonders if she could possibly be dealing with ancestral memory—in effect "recalling" what her ancestor lived.

The only way to discover the truth is to continue writing and to bring to light the whole of Sophia's story. With each new chapter, Carrie uncovers the tale of an innocent entangled in a dangerous enterprise, the secret of forbidden love, and the final betrayal that cost James his throne—and may cost Sophia her heart.
My Thoughts:
It's probably no surprise that I can't resist a book who's main character is a writer. In The Winter Sea Carrie McClelland is busy writing her latest book and has created a character she names after an ancestor that lived in 1707 Scotland. When a brief research trip takes her to Cruden Bay, she feels compelled to stay and rents a cottage. Nearby are the remains of Slains Castle that overlooks the North Sear from its cliff top. The story pours out of her and Carrie soon realizes she knows more details than she should about her long-ago relation's life, that she has, in fact, inherited her memory.
The characters, both 18th century and 21st century, are richly developed by an author who clearly loves and respects history. The shift in time between the present, written in 1st person, and the 1700s, written is 3rd person, makes for seamless reading. Both time periods are brought to life by the characters, setting, plot, and Kearsley's attention to detail. I also love how Kearsley handles the idea of Carrie inheriting her ancestor's genetic memory. It is a type of time travel that fascinates me. There is always some sort of mystical element to Kearsley's books that draws me right in.
I loved the relationship between Sophie and Moray that takes place in the past. It's a very slow burn, as much of the emphasis is placed on what is happening around the character and the historical efforts of the Jacobites to return a Stewart King to the throne in Scotland. The relationship between Sophie and Moray is much more nuanced than the relationship between Carrie and Graham in the present. Both are sweet, both are engaging, but the earlier one is definitely given preference.
Overall, I really enjoyed this book. It was entertaining, informative, and gorgeously written. I don't know what more you can ask of a book. Definitely recommend if you are drawn to historicals that take place outside of Victorian and Regency England. Susanna Kearsley's books would definitely appeal to fans of Diana Gabaldon's Outlander series.
For me, it's always Susanna Kearsley's love of detail, her warm writing, and the mystical part of her books that keeps me turning pages, even when there's a daunting 528 of them.
An overhead view of Slains Castle, which is also said to be the inspiration for Bram Stoker's setting in Count Dracula. In a tweet Kearsley explains where the main rooms mentioned in The Winter's Sea could be found.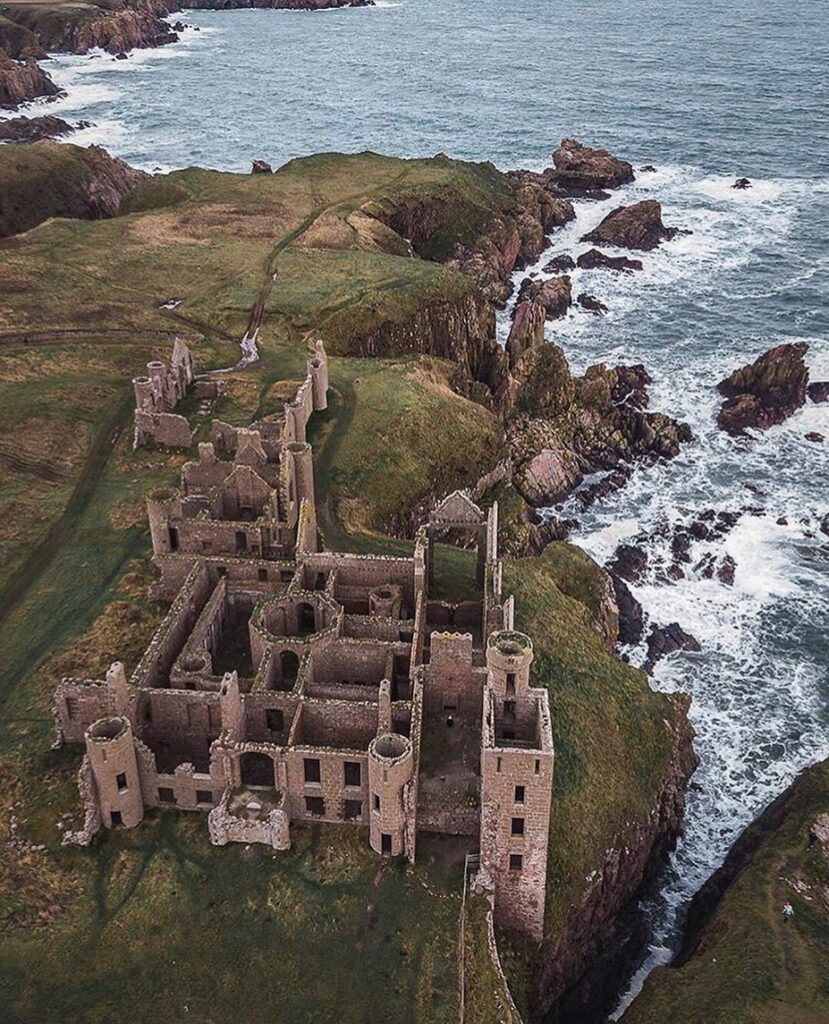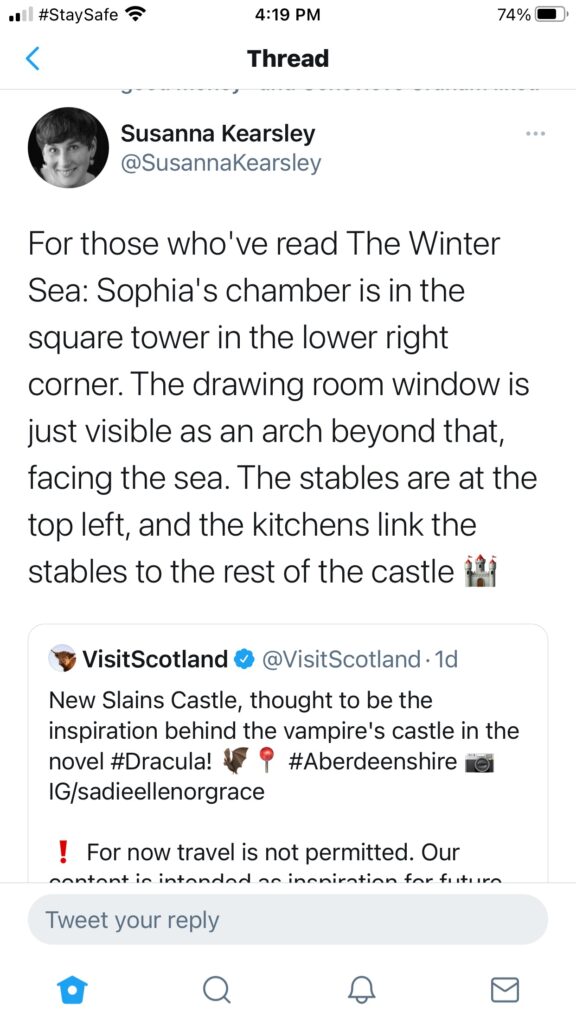 Have you read The Winter Sea or any other of Susanna Kearsley's books? What did you think of them?