One of my reading goals for 2023, actually my only reading goal, is to read more Canadian authors who've written stories set in Canada. Particularly when it comes to the romance genre, which is my favourite for obvious reasons. But I'm also looking for that criteria in general fiction too. Which led me to Daughters of the Deer by Danielle Daniel.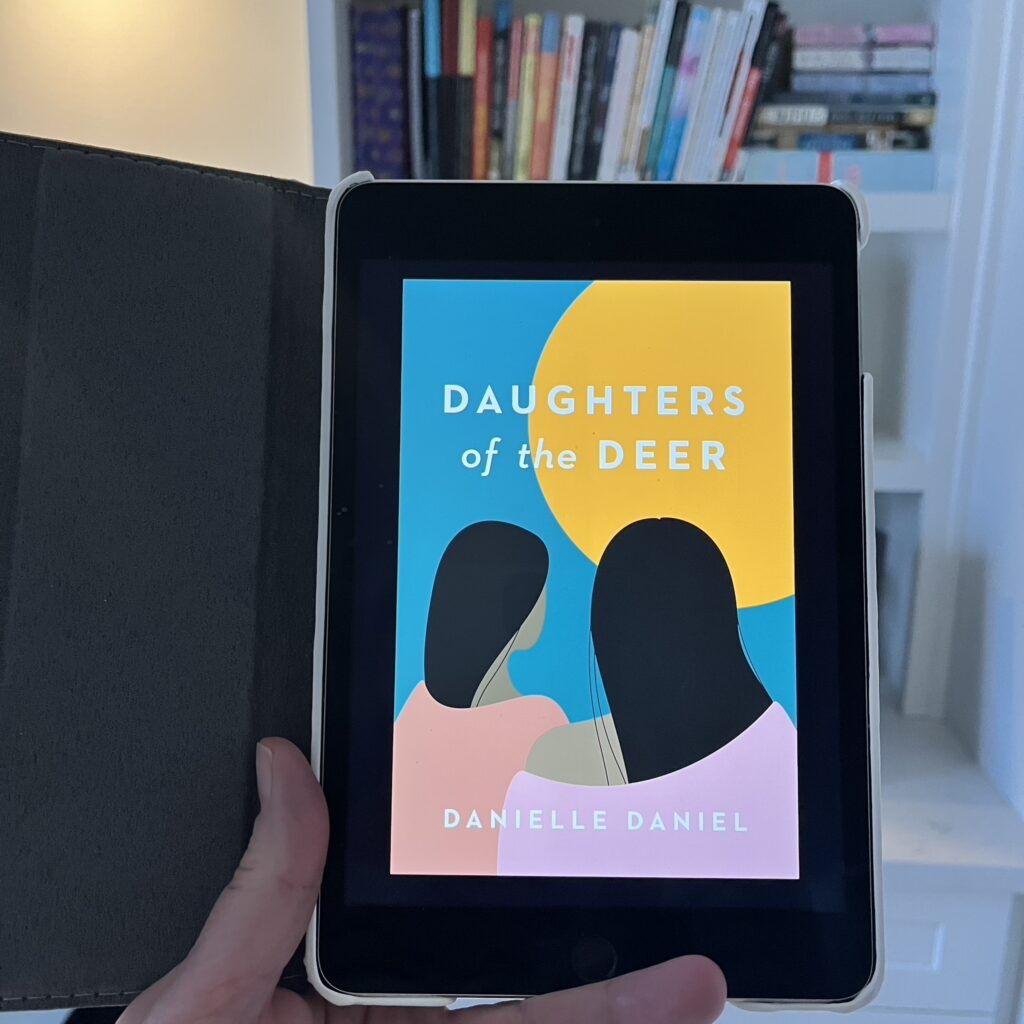 Daughters of the Deer by Danielle Daniel
Published: Penguin Random House, March 8, 2022
Categories: Historical Fiction / Fiction / Canadian History / Canadian Setting /
The Blurb:
1657. Marie, a gifted healer of the Deer Clan, does not want to marry the green-eyed soldier from France who has asked for her hand. But her people are threatened by disease and starvation and need help against the Iroquois and their English allies if they are to survive. When her chief begs her to accept the white man's proposal, she cannot refuse him, and sheds her deerskin tunic for a borrowed blue wedding dress to become Pierre's bride.
1675. Jeanne, Marie's oldest child, is seventeen, neither white nor Algonquin, caught between worlds. Caught by her own desires, too. Her heart belongs to a girl named Josephine, but soon her father will have to find her a husband or be forced to pay a hefty fine to the French crown. Among her mother's people, Jeanne would have been considered blessed, her two-spirited nature a sign of special wisdom. To the settlers of New France, and even to her own father, Jeanne is unnatural, sinful—a woman to be shunned, beaten, and much worse.
With the poignant, unforgettable story of Marie and Jeanne, Danielle Daniel reaches back through the centuries to touch the very origin of the long history of violence against Indigenous women and the deliberate, equally violent disruption of First Nations cultures.
My Thoughts:
Set in the 1600s, Daughters of the Deer is a very moving and heart wrenching story of how Indigenous women were stripped of their humanity and culture under colonization. Daniel writes of Marie, an Algonkin woman, who is forced to marry a French settler, whose religious ethics clash with Marie's Algonquin beliefs. She details Marie's life and gives us a thought provoking look into an Indigenous woman's experiences with early settlers that few people have heard or been taught. Daniel's ability to intertwine those harsh realities with the details of everyday life for Marie and the community make for a very compelling and thought provoking read. This book is going to stay with me for a long time. Definitely recommend.
Here is an interview with Danielle Daniel on CBC's The Next Chapter about her real life connection to Marie and Jeanne.
Until next time…
What's everyone else reading?