This reading year is starting off strong. My first read of this new year is by Kate Clayborn, who is one of my very favourite authors, and this book just made me love her writing even more. I'm delighted to recommend it.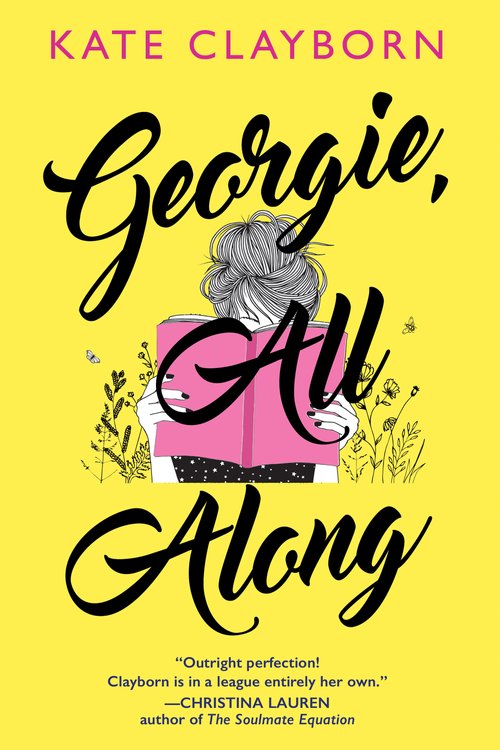 Georgie, All Along by Kate Clayborn
Published: Kensington (January 24, 2023)
Categories: Women's Fiction / Contemporary Romance / Feel Good Fiction /
The Blurb:
Longtime personal assistant Georgie Mulcahy has made a career out of putting others before herself. When an unexpected upheaval sends her away from her hectic job in L.A. and back to her hometown, Georgie must confront an uncomfortable truth: her own wants and needs have always been a disconcertingly blank page.
But then Georgie comes across a forgotten artifact—a "friendfic" diary she wrote as a teenager, filled with possibilities she once imagined. To an overwhelmed Georgie, the diary's simple, small-scale ideas are a lifeline—a guidebook for getting started on a new path.
Georgie's plans hit a snag when she comes face to face with an unexpected roommate—Levi Fanning, onetime town troublemaker and current town hermit. But this quiet, grouchy man is more than just his reputation, and he offers to help Georgie with her quest. As the two make their way through her wishlist, Georgie begins to realize that what she truly wants might not be in the pages of her diary after all, but right by her side—if only they can both find a way to let go of the pasts that hold them back.
This delicious and sweet book has it all. Characters so real you can't help but love them. Kate Clayborn carries us along on an intimate journey of self discovery grounded by great writing, great dialogue and great depth. It was a multi-sensory delight from beginning to end, from milkshakes and green beans in pasta to dock boards underfoot and a dog named Hank. It's charming, it's rich, and it will tug at all your heartstrings.
It also just so happens that I saw a great clip between Kate Bowler and Elizabeth Gilbert talking about 'purpose anxiety' and it reminded me of this book. One of the things Elizabeth Gilbert talks about is our obsession with finding our higher purpose, in narrowing that down to an absolute and then putting a significant amount of energy into nurturing and honouring that higher purpose. That's aside from living our life, which is a pretty big deal. And I think that's what this book is about at its core: making a good life for yourself, focussing on the moment, and not having to make everything about a higher purpose.
Until next time…
Have you got any book recommendations for me?