Does it make sense to say the days were long but the month flew by? I've been in hibernation mode, or wintering, for most of this month. I baked a couple of things, I read a couple of books and I revised a couple of scenes.
I will say that this January had to have been very pretty, a real winter wonderland. We have had lots of fog here, which is a departure from the norm, which resulted in rime frost.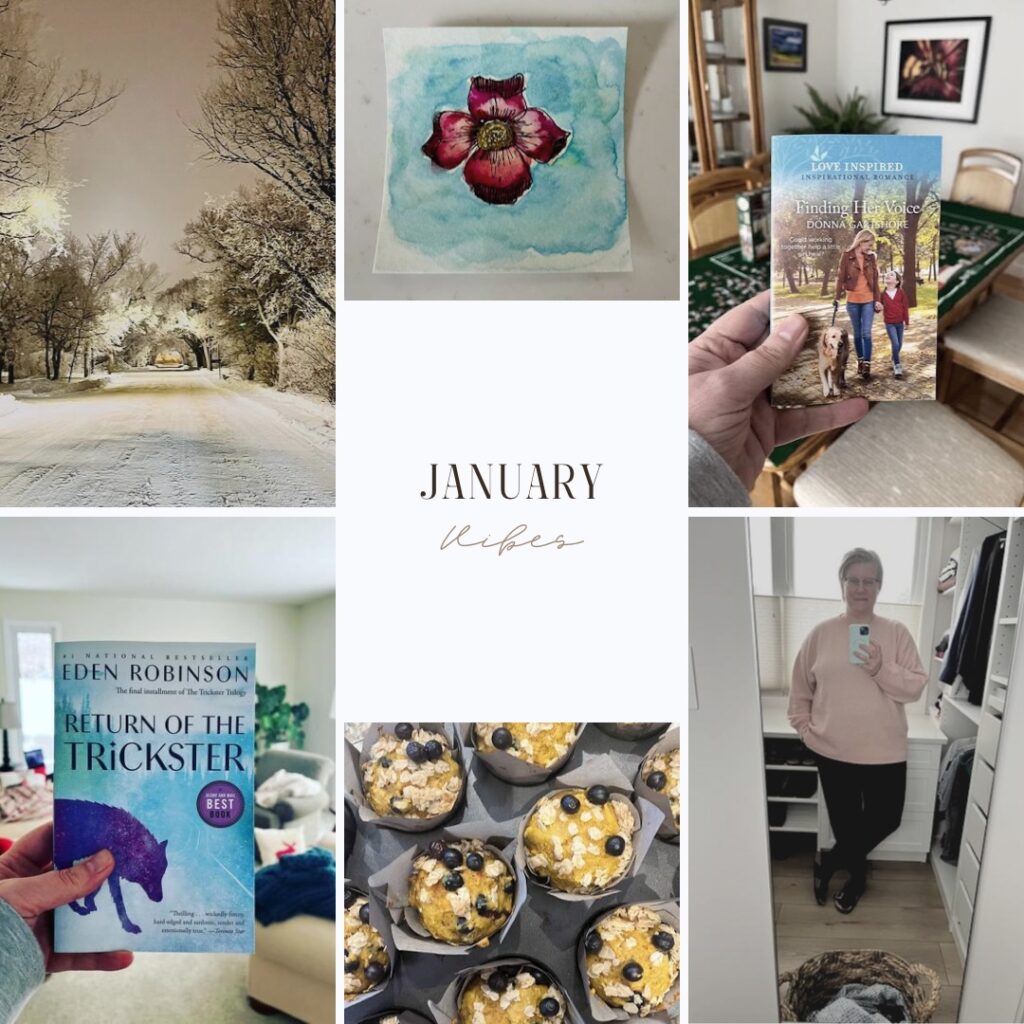 Book Round Up:
I finished Eden Robinson's Trickster trilogy. I loved this book and this trilogy. Eden Robinson's way of weaving carnage and humour makes for an epic read. The final instalment, Return of the Trickster, was a page turner full of magical realism, complicated intergenerational family dynamics and rich storytelling. So much happening. So many characters. Yet, manageable, if that make sense. And Jared. I kept rooting for him. Kept hoping he'd remain tender-hearted while he figured out how to survive all the time supported by a fabulous cast of fierce female characters.
I also read a book by a dear writer friend, Donna Gartshore. Finding Her Voice is a lovely, tenderhearted story of what it looks like to move forward from trauma. They're both looking for a fresh start while keeping up the walls that have protected them after life dealt bitter hurts. They both have plans for the clinic where Bridget work and both are at cross purposes. But when Sawyer's grief stricken daughter bonds with Bridget's shy dog, they have to look deep to take the next step. Sweet, charming, and set in the lovely town of Green Valley, Finding Her Voice will tug at your heartstrings and have you rooting for Bridget and Sawyer.
And my book recommendation for January is Georgie, All Along by Kate Clayborn, who is one of my favourite authors and you can read my review here.
Baking Round Up:
I made my favourite muffin recipe, Blueberry Turmeric Muffins from Renee Kohlman's lovely cookbook, All The Sweet Things. You can find her blog, Sweet Sugar Bean here. If you love cookbooks, Renee Kohlman's two cookbooks are beautiful and include personal stories and I highly recommend buying either of the them. Bonus she's from Saskatchewan!
Not shown, Salted Chocolate Chip Brown Butter Cookie Bars from the Butternut Bakery Blog. They were delicious! Will definitely be making these again.
I also made an old fashioned apple crisp, one of my very favourite comfort food desserts from The Chunky Chef.
And just like that January is coming to an end.
Until next time…
How did you fill these January days?