We took the plunge and renovated our kitchen this summer. Our old kitchen was dated, having been around since the '70's, and not very user friendly. So, we fixed it. Having never undertaken a major renovation before (it turned into more of a whole main floor update), I learned a few things.
Renovations are not fun while you're living through them, but when you see everything come together the memory of months of disorder magically disappear and you start to wonder what the rest of the house would look like with a little TLC.
I have been a stay-at-home Mom for nineteen years. I spend large parts of my day in the house. It's very weird to have people who don't live here coming and going. And what do you do when they're coming and going all day every day? When you can't do the things you normally do every day? Like write, or cook or generally putz around? You thank your lucky stars these renovations happened during the summer months. Much easier to be outside somewhere. Any place other than your house. Which is under seige.
We were right to hire a contractor to manage the project. I'm the kind of person who is happy when people like me. This way it wasn't my job to harass the tradespeople. It was someone else's. We just stayed out of their way. Someone else was tasked with dealing with the problems. It's the only way to go.
If you are thinking about getting rid of the dated dirty popcorn stipple on your ceiling? Do it. Even though that was the part of the process that caused the most disruption and proved costly it was so worth it. Do it. You will love the results. I promise.
Before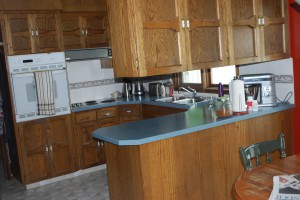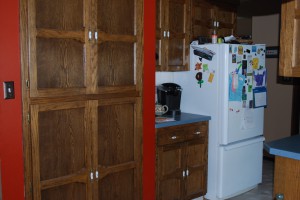 During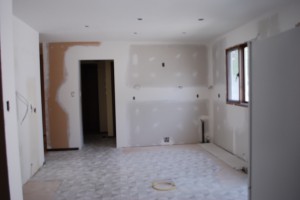 After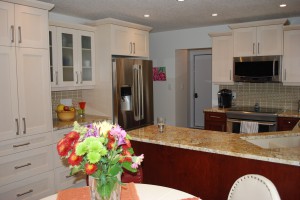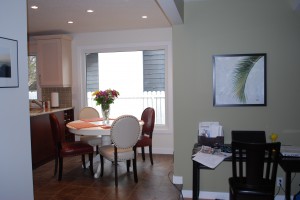 We love it and that makes the whole experience worth it. It's open and airy and light. The window coverings are ordered and next we'll need to start thinking about more artwork for the walls. Then sometime down the road we'll have to tackle the second floor…
Love renovations? Hate 'em? Have some on the go?