Sexy Suspense
It's Relase Day for my romantic suspense, OFF THE GRID!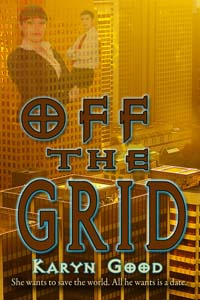 The Wild Rose Press  *  Amazon  *  Kobo  *  All Romance Ebooks (ARe)  *  BookStrand
This story is set in the Downtown Eastside of Vancouver, British Columbia, infamously known as one of Canada's poorest urban postal codes. A historical 'skid road' because of the city's history in timber and logging. And known to sex trade workers as the Low Track. The area is plagued by urban decay associated with poverty, drug use, crime, and violence and has the horrific statistics to match its reputation. Hundreds of women associated with the DTES Low Track have gone missing since the 1980'S. Hundreds. Twenty-six of those women were murdered by convicted serial killer, Robert Pickton.
Fortunately, for the many people who call the Downtown Eastside their home, the DTES is also known for its community activism. As developers move in to gentrify the neighborhood and push them out, activists move to stop them.
These statistics were the inspiration for activist Dr. Sophie Monroe, Family Law expert Caleb Quinn, and corporate development kingpin Jason Drummond.
Blurb:
She wants to save the world. All he wants is a date.
A committed doctor to Vancouver's inner city, nothing fazes Sophie Monroe—until a pregnant teenager shows up at her clinic on Christmas Eve requesting sanctuary and claiming the baby's father is one of the city's most influential businessmen. Sophie is in over her head and thankful when aid shows up in the form of an attorney who's a little too confident and a lot too sexy.
Family Law expert Caleb Quinn just wants a date, a chance to prove he isn't the elitist jerk Sophie assumes. Helping deliver a baby is not what he has in mind. But before long protecting a traumatized teenager and her son become his first priority. Even if saving them pits him against the baby's father, a childhood friend. A man who will do anything to keep his dark side private.
But justice never comes cheap. Will doing the right thing cost Sophie and Caleb their reputations? Or their lives?
Excerpt:
Casual relationships weren't her thing. Once she'd yearned for more. For the commitment other women scoffed at. Then she'd learned her lesson. It didn't mean she didn't crave family. She refused to ask about the woman from his office. It was none of her business. Neither was he. But renewed determination to resist him didn't mean he wasn't getting to her.
No soft music played. The dim lighting was courtesy of an unlit dingy hallway. The smell of antiseptic and desperation laced the air. It didn't matter. Sophie wanted to meet his challenge. She didn't want to dodge. Or object. She wanted to kiss the hell out of Caleb Quinn.
So she stepped back. "I can't do this with you. I need to know I matter. That I'm the only name on your list."
Caleb took her face in his warm hands. "Sophie, right now there is no one else but you."
She wrapped her hands around his wrists and tugged them away. "But there's a long line behind me and I'm choosing not to join the queue."
"Don't." He refused to let go of her hands when she tried to release them, brought them up between them. "Don't toss this aside."
"I don't do casual."
"There won't be anything casual about it."
There you have it! I hope I've intrigued enough to purchase a copy of Off The Grid. Happy Reading!